Xeomin® is an FDA-approved treatment.
WHAT IS XEOMIN®?
Xeomin® (incobotulinumtoxinA) is a prescription medication injected into muscles and used to temporarily improve the appearance of moderate to severe frown lines between the eyebrows (glabellar lines) in adults. Xeomin® contains botulinum toxin type A, a protein purified from the bacterium Clostridium botulinum.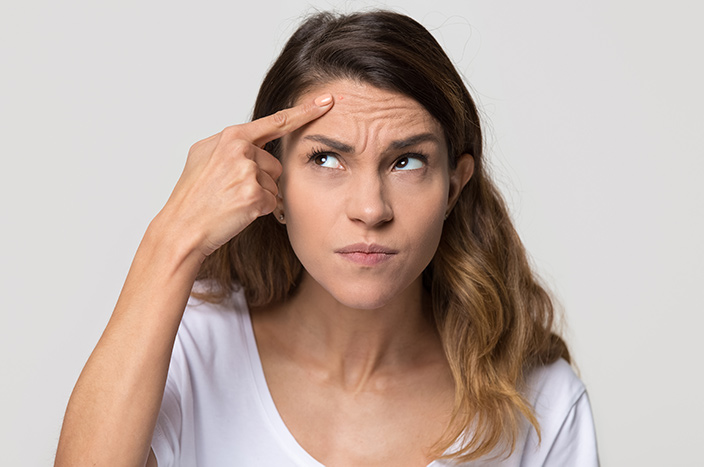 HOW DOES XEOMIN® WORK?
When you squint or frown, the muscles between your eyebrows contract, causing the skin to furrow and fold. Over time, as your skin ages and loses some of its elasticity, these repeat. contractions can cause persistent frown lines. Botulinum toxin type A – the active ingredient in Xeomin® – acts on nerve endings in muscles to prevent muscle fibers from contracting. By reducing these contractions, Xeomin® can temporarily reduce the lines between your eyebrows.
IS XEOMIN® PROVEN?
Xeomin® was proven effective in two randomized, double-blind, multicenter placebo-controlled clinical trials of 547 healthy, adult patients. The average age of patients in the study was 46 years. Patients received 20 Units of Xeomin® and were classified as responders if they had a 2-grade improvement on a 4-point scale assessed by the physician and patient. Using these criteria, treatment success was higher with Xeomin® than placebo on Day 30 in both studies (60% and 44% vs. 0% for placebo in both studies). Based on these trials, Xeomin® received FDA approval for use in glabellar tines in 2011.
HOW DO I KNOW IF XEOMIN® IS RIGHT FOR ME?
If you are an adult with moderate to severe glabellar lines, Xeomin® may be right for you. Talk to your doctor to discuss the benefits and risks of treatment. Do not use Xeomin® if you are allergic to botulinum toxin or any of the other ingredients in Xeomin®. You should also not use Xeomin® if you have had an allergic reaction to any other botulinum toxin product or have a skin infection at the planned injection site.